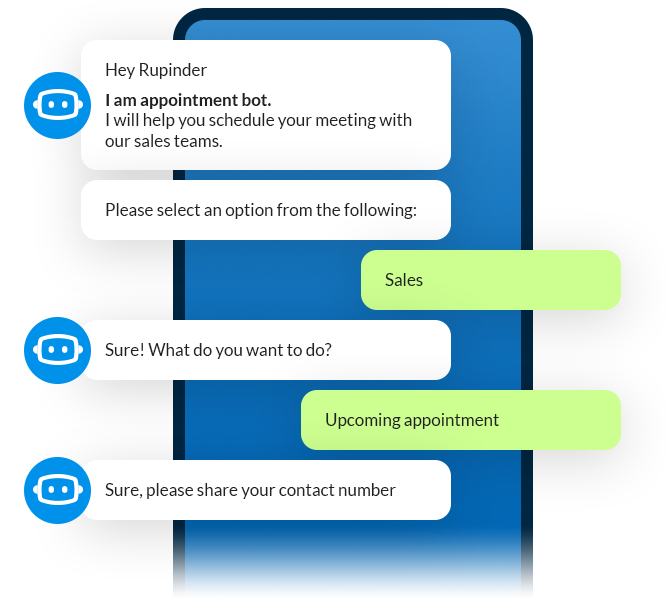 Chatbots are becoming the new normal for user engagement of every business and company. Various industries, e-commerce, real estate, logistics, healthcare, and now even small organizations use chatbots for many different purposes like customer support, advertising, and managing appointments. One of the most used and vital chatbots in our industry sector is an appointment bot. Be it vendor, medical professional, doctor, owner of any spa or salon, a business tycoon, or running a restaurant, an appointment bot is a must to make a commendable impact on customers. An appointment bot helps professionals and organizations to manage their appointments quickly and conveniently. The customers can book, reschedule, cancel, and set reminders for their meeting with these chatbots efficiently. Appointment bots are a boon to every organization as they provide their customers a good service every time. 
Why do organizations need an AppointmentBot?
Post covid situation and social isolation, many customers have shifted online for booking or managing their appointments. Operating staff could handle all these appointments, but they cannot be available 24*7, and it also comes with a hefty service cost that adds more expenditure to the company. With the customers growing online, providing them good customer service instantaneously has become a necessary task. Appointment-making chatbots come to the rescue here and aid businesses not to get overwhelmed with many appointments to handle. Let us see why an organization require an appointment bot:
These chatbots automatically manage and book all the appointments according to the free time slots available to both customers and professionals. Therefore, the company does not have to worry about the timings and customers and can do their work trouble-free.
Chatbots, developed with Artificial Intelligence's help, are automated messaging systems. Whenever a customer needs to make an appointment, they do not have to wait for hours and can get a reply instantaneously.
Had there been no chatbots for appointment handling, a human has to do all this work which will directly exploit the resources and funds the organization provides. Installing chatbots automates your task and saves you money.
Chatbots are automated systems that can be available all the time. Your customer does not have to worry about the timings, and can schedule an appointment whenever needed, which provides customer satisfaction.
These are easy to install and maintain, and every organization can efficiently take advantage of the chatbot. So, businesses need not worry about the development and installation as this would be the responsibility of developers.
Reminders through mail or message
Appointment bot also has a feature to sync customer's appointments with their calendars like google calendar, Microsoft calendar, etc. So it can remind them of their meeting on that particular day, which will be beneficial for both customers and organizations.
Increase sales and customer relationship management
These appointment scheduling chatbots can promote your organization when combined with online advertisements like a CTA, increasing your sales. Also, chatbots are scalable, so even if the company is growing, it can keep a good customer relationship management.
What does an AppointmentBot do?
Now that we have seen what an appointment scheduling chatbot is, who can use them and why they should use it, we shall now see what an appointment-making chatbot can do and why it is effective.
This chatbot's primary purpose is to schedule an arrangement according to both the organization and the customer's availability.
Reschedule an appointment
If a customer has some other urgent work, they can even reschedule their previous arrangement to meet their needs.
If the customer wants to cancel their appointment for a specific reason, this chatbot also gives the option to cancel your appointment.
Many customers set an appointment and then forget about it. The chatbot gives a reminder to the customer before the meeting to not forget about it.
Illustration of an appointment scheduling chatbot
A good appointment-scheduling chatbot provides a convenient and straightforward way for scheduling the appointment for the users. Many gigantic companies have already started using these chatbots to gain customer support, and the interactivity of these chatbots with the customer is grabbing the eyeballs. Let us look at how a chatbot can interact with a human to fix an appointment with a doctor.